Peju Layiwola
Benin 1897
"All the works […] represent the history of fragmentation. The way the artifacts were yanked off the sacred shrines and piled up in the palace yards as goods rather than art, shows utter disrespect for the religious and cultural importance that the people of Benin attached to their objects. So, each collection, not just the one in RJM, everywhere in Europe and in  America, is incomplete. They are incomplete and they are fragmented displays of Benin heritage.
"Any decision that is taken about our heritage, our lives, it has to include us. We don't want to be spoken to, but we want to be dialogued with. And it is gonna be a dialogue that is on the monologue. We want to be able to tell our stories."
Peju Layiwola, 2021
There is no better description of what resistance means than the protests against police brutality over the killing of George Floyd. In the wake of these protests is the renewed request for the return of plundered objects from Africa. Indeed, it is the same paternalistic sensibility and show of cultural superiority that surrounds the continued keeping of looted artefacts taken from former colonies of empire. Museum galleries, like public spaces, are also places in need of decolonisation as they contain histories of imperial violence.
The 95 Benin objects in this room derive from such a violent history unleashed by British soldiers in Benin City, Nigeria in 1897. My works, like those of other artists selected for this exhibit speak about resistance, much the same way the writings of Kwame Opoku, a strong advocate for restitution of artefacts to countries of origin, has done for several years. I have used the format of my past exhibitions and the works of artists who have shown a commitment to this cause over time.
A few artists and poets featuring in this exhibition include Osaze Amadasun, Alao Lukman, Monday Midnite, Jimoh Ganiyu, Nwakuso Edozien and Christie Akumabor who bring in private experiences and stories about Benin art and culture. Their works refrain from the derogatory narrative of colonialism, which relegated and demonised the culture, its peoples, and their religions. The hangover of such erasure of cultural values, exacerbated by Christianity lingers till date.
The 1897 audio by Monday Midnite, a Belgian-based musician and activist, cartoons by Jimoh Ganiyu, and the images of an installation from my solo exhibition, Benin 1897.com: Art and the Restitution Question held in Lagos and Ibadan in 2010 portray strong messages and response to colonial injustices in Benin. So also does the collaborative public art project, Whose Centenary? which centennial commemorates of the passing of Oba Ovoranmwen, exiled king of Benin, rather than the British amalgamation of Nigeria in 1914. Photography, site-specific installations, video art, performances, poetry, and drawings are featured in the format of a visual diary.
I find a correlation between the concept of "RESIST!" in my recent body of works referencing Yoruba indigo dyeing (àdìrẹ) and "Resistance" in relation to the widespread protest against systemic violence – police brutality, the plundering of artefacts from countries of origin, and the myriad calls for restitution, healing, and repair around the world. In fabric designing, the starch or wax builds a wall of resistance against the dye in forming the desired pattern. I find this so relevant in today's socio-political context. Both words, 'resist' and 'resistance' hinge on putting a guard in place to stop social injustice. The voice of the colonised or the oppressed becomes the resistance to breaking down these frameworks of subjugation and control. Only then, like cloth, will the desired patterns emerge.
Peju Layiwola, Arkansas, 2020
Peju Layiwola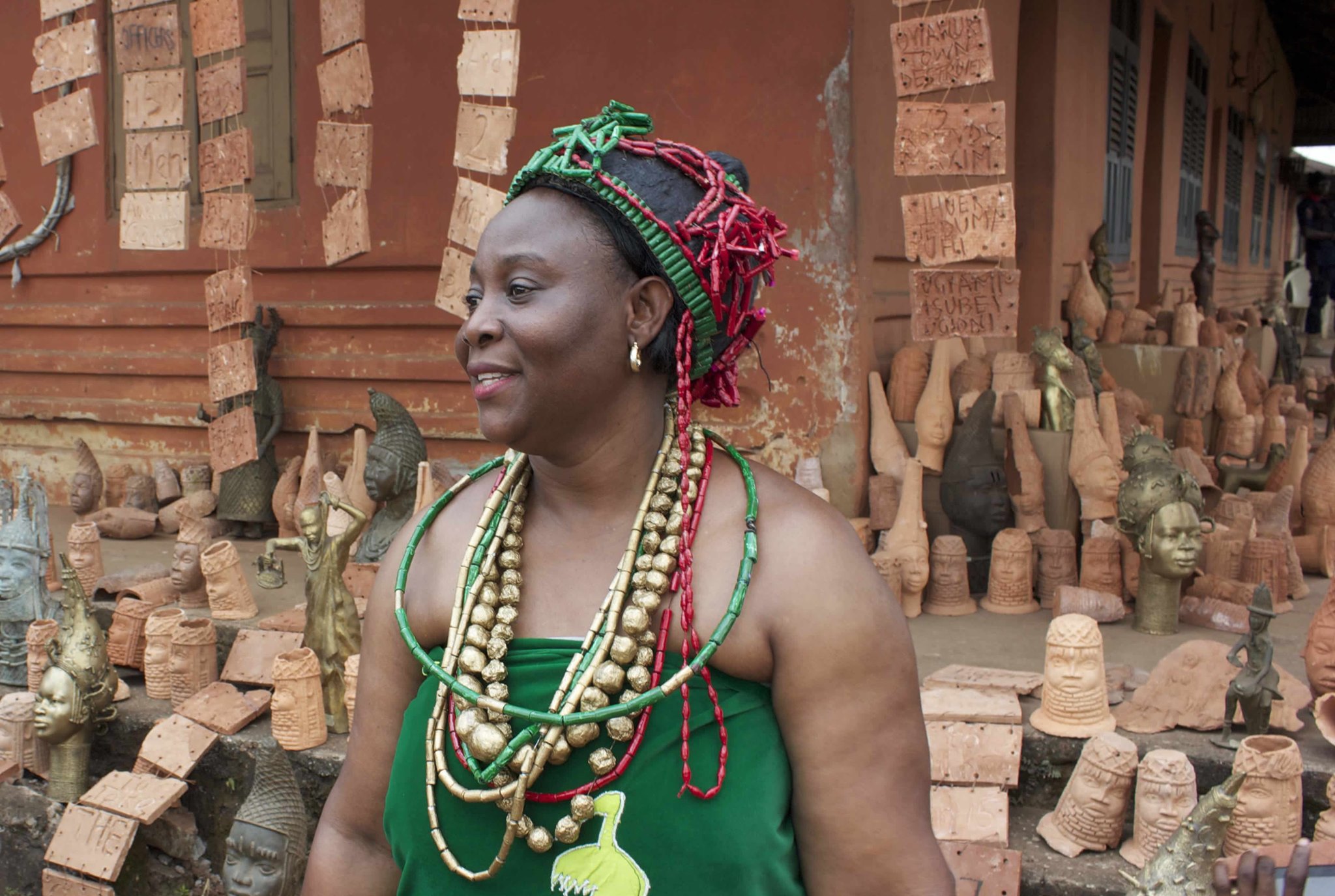 Peju Layiwola is an artist, professor of art history and head of the Department of Creative Arts at the University of Lagos. The starting point of her works are themes such as the looting and restitution of cultural assets from the Kingdom of Benin (Nigeria), as well as the culture of memory, voids and postcolonial continuities. She works in a variety of media, focusing on personal and communal histories that shine a light on Benin as both an ancient kingdom and a contemporary city.
Participating Artists:
Jimoh Ganiyu
(lives and works in Lagos, Nigeria)
Jimoh Ganiyu is a cartoonist, activist, digital artist and university lecturer. He holds a PhD in Fine Arts from the University of Lagos in Nigeria, where he also teaches graphic design and art history. As a scholarly writer who is also a practising political cartoonist, his work is socially relevant and engaging. His research has won major awards and his works have been exhibited at several local and international exhibitions.
In his works, Jimoh Ganiyu (Jimga) speaks on social and socio-political issues. He is particularly concerned with addressing looted art and highlighting postcolonial practices.
Alao Lukman
(born 1981 in Nigeria, lives and works in Jamaica)
Alao Luqman Omotayo is a Nigerian artist and currently a Volunteer – Cultural Diplomat in Jamaica, holds a Bachelor's degree in Painting from the University of Lagos, a Master of Fine Art (MFA) in Printmaking from the University of Benin City and is currently pursuing a PhD there. He has won numerous awards and has participated in several group exhibitions. He is a member of the Society of Nigerian Artist (SNA) and a member of the Arts Council of the African Studies Association (ACASA).
His artworks take a critical look at traditional African art, as well as the social, political and cultural practices of everyday life. He deconstructs the Benin-influenced style of the Yoruba, their motifs and images, but uses traditional sculpting methods such as carving, casting and assemblage. Lukman explores different themes such as the Yoruba cultural movement, styles, motifs, signs and symbols, arranging new pieces that are conceptually layered. Lukman recycles discarded lithographic plates. The images are drawn directly onto the plates and carefully edited to reflect the history of traditional Yoruba and Benin cultural life. The background is often decorated in great detail with curves and straight lines, also using symbols and motifs such as cowries and several others.
Nwakuso Edozien
(born 1996 in Nigeria, lives and works in USA)
Nwakuso Edozien is a multicultural artist who draws inspiration from various disciplines. She has a degree in architecture from Cornell University and her art explores the concept and construction of cultural identity. Building on her architectural background, Nwakuso uses line work and textures to enhance the depth and complexity of her work. Her art reflects a diverse upbringing and changing environments – she is of both Nigerian and German descent and has lived and trained in Nigeria, Germany, England, Wales and the United States. Through painting, illustration, design and sculpture, she creates multi-layered artworks that pay homage to her primarily Nigerian roots. Her works reflect her journey of self-discovery and belonging.
Monday Midnite
(born 1961 in Benin City, Nigeria, lives and works in Belgium)
Monday Midnite is a Beninese radio/club DJ, lyricist, composer, producer and rapper/singer of various musical genres. Having already had his first international successes in the 80s, his breakthrough came when he returned to Belgium from New York and became the rap voice of Belgium. His musical successes have always been driven by his personal struggle to fight corruption, injustice and governmental difficulties in his native Nigeria. His first single in this political regard "Bring back the money" was released in 2009, followed by "Pissy Pissy" in 2010 and finally the album "1897" in 2018, whose single "1897" was already released in 2009 as part of his personal campaign for the return of all Beninese artifacts.
With the single "1897", which was first released in 2009 and is to be understood as part of Midnite's personal campaign for the return of all artworks looted from his home country Benin by the British invaders in 1897, the music activist makes an important contribution to the restitution debate.
Osaze Amadasun
(born 1994 in Abia State, Nigeria, lives and works in Lagos State, Nigeria)
Osaze Amadasun is a versatile artist whose works include drawings, paintings, illustrations and graphic design.  He is a trained architect, has a bachelor's degree in architecture and a master's degree in environmental design. Osazes' works reflect the diverse culture in his surroundings. He shows a keen interest in documenting and storytelling through his art.
Prev project
Next project