The exhibition highlighted 500 years of anti-colonial resistance in the Global South and tells about colonial oppression and its effects until today. The exhibition is a tribute to the people who resisted in various ways and whose stories have hardly been told or heard until today. It was on display from 01 April 2021 to 09 January 2022.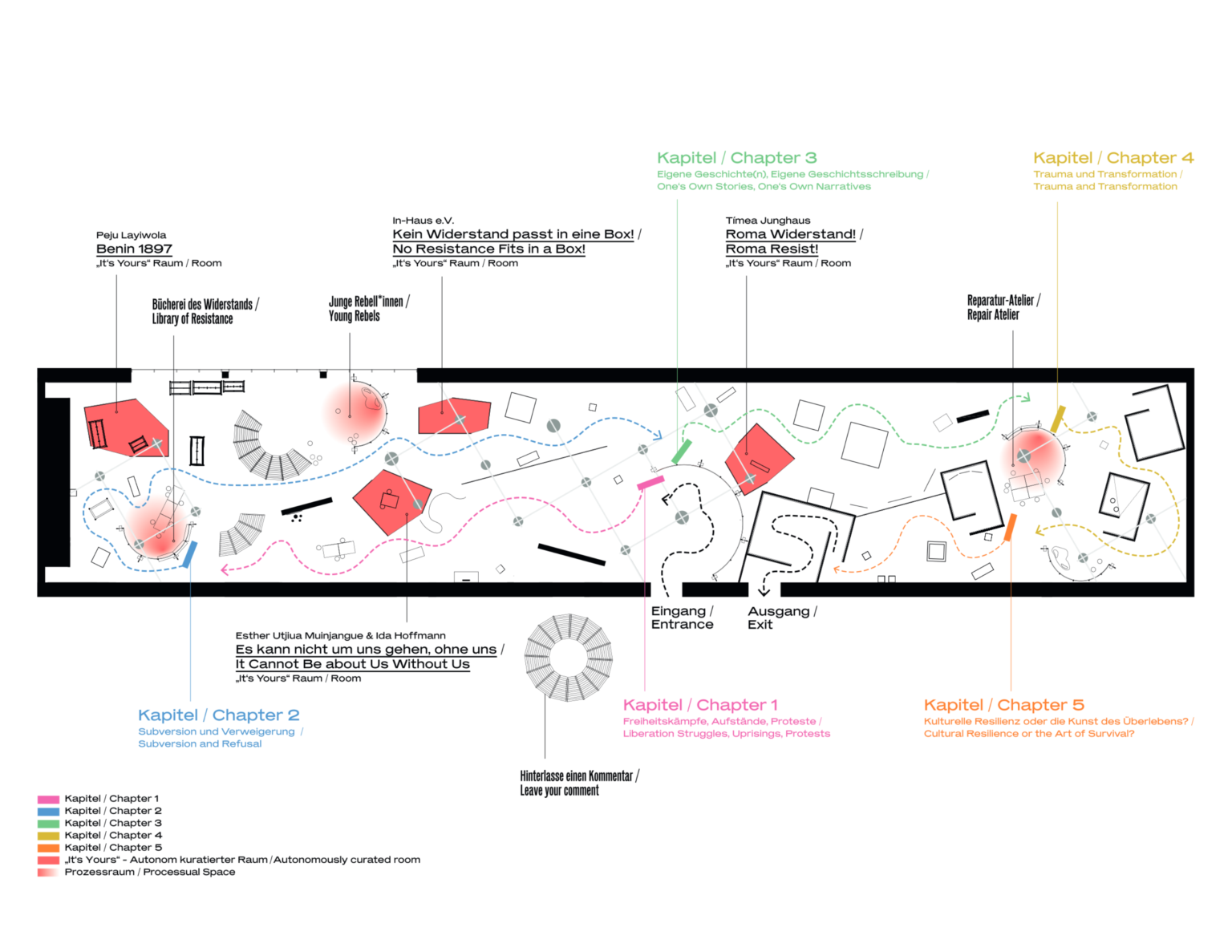 In a labyrinthine, futuristic architecture of pipes, beams, stones and steel elements, designed by the architects raumlaborberlin, the works of over 40 contemporary artists from the Global South and the diaspora tell stories of rebellion and war, violence and trauma as well as survival and resilience. Their stories are complemented by historical documents and numerous objects from the RJM collection, silent witnesses of moments of anti-colonial resistance. Within this labyrinth, 4 curated autonomous rooms, the so-called "It's Yours!" rooms open up further perspectives: The Nigerian artist Peju Layiwola deals with the looted arts from the Benin Kingdom (Nigeria), of which there are also many in the RJM collection, and invited other Nigerian artists, musicians, poets and cartoonists widening her perspective. The Namibian activists Esther Utjiua Muinjangue and Ida Hoffmann speak about the genocide of the Herero and Nama in Namibia, the first genocide of the 21st century. The Hungarian curator Tímea Junghaus has invited Sinti and Roma artists, the biggest minority in Europe who emphasise the embodiments and narratives of Sinti and Roma resistance as a central aspect of their own experience. Finally, the Cologne postmigrant association In-Haus e.V. laments racism and colonial continuities.
Dance and music of resistance has a place in the exhibition thanks to Rokia Bamba, sound artist and DJ who develops a sound and voice archive of resistance, and to the urban dance choreographers Bahar Gökten and Daniela Rodriguez Romero who explore embodied resistance.
Numerous participatory formats such as repair and writing workshops, storytelling cafés, a growing "Library of Resistance" and live speakers with whom visitors can engage in dialogue offer a platform for critical examination of colonialism and its continuities and also create spaces for discussions, listening, networking, being together and solidarity.
Chapter 1: Freedom struggles, uprisings, protests
Chapter 2: Subversion and Refusal
Chapter 3: Own History(s), Own Historiography
Chapter 4: Trauma and Transformation
Chapter 5: Cultural Resilience or the Art of Survival?
Florisse Adjanohoun, Christie Akumabor, Osaze Amadasun, Roger Atikpo, Kader Attia, Belkis Ayón, Marcel Djondo, Omar Victor Diop, Nwakuso Edozien, Robert Gabris, Jimoh Ganiyu, Anani Gbeteglo, Ayrson Heráclito, indieguerillas, Patricia Kaersenhout, Eustache Kamouna, Grada Kilomba, Mohammed Laouli, Alao Lukman, Peter Magubane, Dhuwarrwarr Marika, Tshibumba Kanda Matulu, Medu Art Ensemble, Luiza Prado de O. Martins, Małgorzata Mirga-Tas, Keviselie/Hans Ragnar Mathisen, Monday Midnite, Franky Mindja, Gaëtan Noussouglo, Lapiztola, Nura Qureshi, Emília Rigová, Mamadou Sall, Juan Manuel Sandoval, Diego Sandoval Ávila, Selma Selman, The Singh Twins, Alfred Ullrich, Huỳnh Văn Thuận, Kara Walker, Wantok Musik Foundation, Tania Willard, Lawrence Paul Yuxweluptun, Ernesto Yerena.
Esther Utjiua Muinjangue & Ida Hoffmann, Peju Layiwola, Tímea Junghaus, Integrationshaus (In-Haus e.V.) Cologne-Kalk mit Elizaveta Khan, Mona Leitmeier, Sae Yun Jung, Salman Abdo und Rita Bomkamp.
Rokia Bamba (Music), Bahar Gökten und Daniela Rodriguez Romero (Urban Dance), Kiri Dalena (Colonial photography), Francis Oghuma (Real Time Documentary)