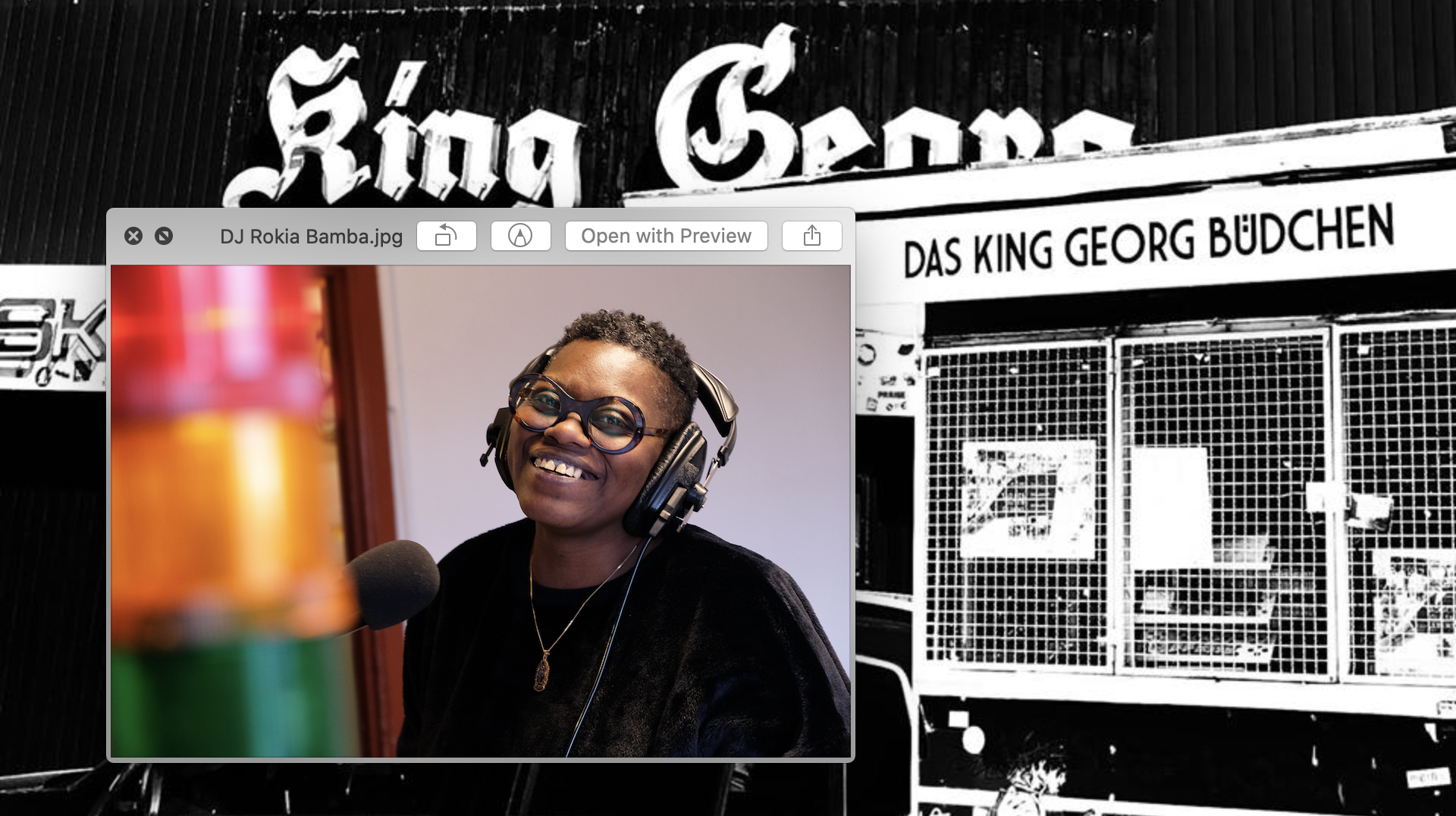 DJ Rokia Bamba at Ebertplatz
Thursday 29.07.2021, 19:00
The exhibition "RESIST! The Art of Resistance" goes Ebertplatz with DJ Rokia Bamba.
The Brussels-based DJ Rokia Bamba only realized quite late that she was not only a good radio DJ – she has been doing that since she was twelve years old – but that she could also get people to dance. She particularly likes doing that at socially engaged parties. Expect groovy hip-hop, African beats, house and techno.
Where: King Georg Büdchen, Sudermanstraße 2, 50670 Köln
When: Thursday 29 July, 7PM
Admission is free of charge.
Rokia Bamba was invited to be artist in residency at Rautenstrauch-Joest Museum in Cologne. Her work is to be heard in the exhibition "RESIST! The Art of Resistance" until 9 January 2022.
Rokia Bamba is a sound artist, DJ and radio producer. She DJs in activist circles such as Globalicious, La Colonie, Massimadi, where she is also responsible for the booking. In 2021 she will curate the first Belgian edition of the 'New Afro Ke-Pon' festival. She has a unique style that mixes a cappella with groove and punk and many other genres, a style she developed in the many years since she co-founded Full Mix at Radio Campus, one of the first hip-hop, R&B and funk radio shows (1992).
Rokia Bamba also produces sound works such as 21C/19C_Chpt3_Numbers and Comments (2017), designed for the performative projections of Antje Van Wichelen and My musical Kongo language exploration (2017), live performance at La Colonie, Paris. In 2019, in collaboration with Antje Van Wichelen, she developed the sound design for the exhibition Noisy Images by Photoszene Köln at the Rautenstrauch-Joest-Museum Cologne.
In 2019 and 2020, she conceived several projects at the women's prison Berkendael in Brussels in collaboration with Lezarts Urbain (association active in the socio-artistic field of urban cultures and hip-hop in particular) and a project together with the rap collective Murmuziek at Prison de Forest in Brussels with numerous music workshops and concerts.
Prev project
Next project