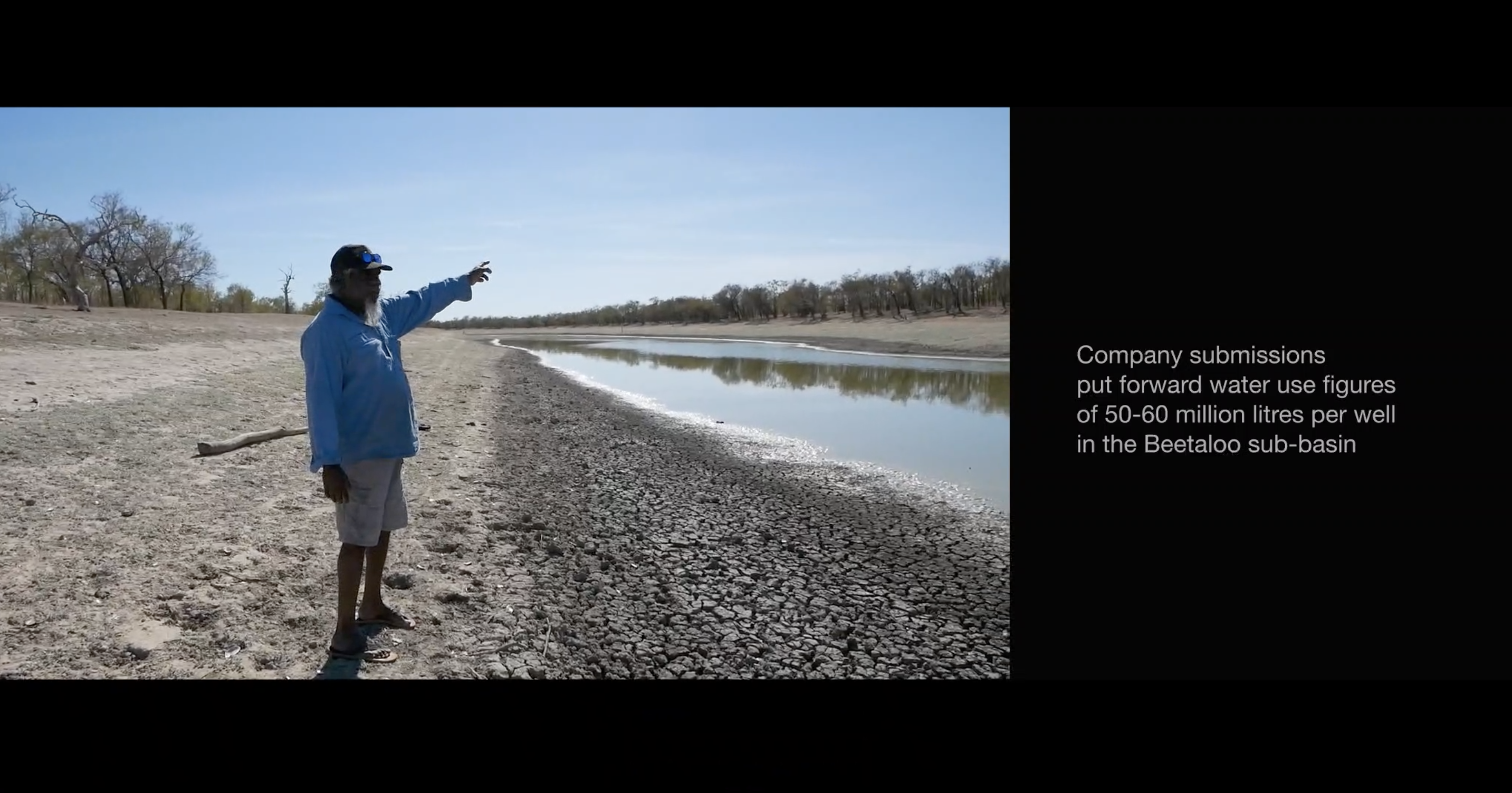 CINEMA RESIST! Infractions (2019)
FREITAG 25.6.: 19 Uhr bis SONNTAG 27.6.: 24 Uhr
Im Rahmen der Ausstellung "RESIST! Die Kunst des Widerstands" hat das RJM eine Filmreihe konzipiert, die sich mit Widerstandsbewegungen gegen koloniale Unterdrückung oder Spuren des Kolonialismus bis in die Gegenwart aus der Perspektive des Globalen Südens beschäftigt. Diesmal zeigt das Cinema RESIST! den Film "Infractions" (2019) unter der Regie von Rachel O'Reilly.
Der Film wird von der Regisseurin selbst präsentiert und ist von Freitag, 25. Juni, 19:00 Uhr bis Sonntag, 27. Juni, 23:59 Uhr auf http://rjm-resist.de/ online verfügbar.
INFRACTIONS, 2019, Regie: Rachel O'Reilly, HD video, Farbe, 63 min.
INFRACTIONS ist ein künstlerischer Dokumentarfilm im Dialog mit den Kämpfen Indigener Kulturarbeitender gegen die Bedrohung von mehr als 50% des australischen Northern Territory durch Schiefergas-Fracking. Während das Land zum weltweit führenden Exporteur von erderwärmenden fossilen Brennstoffen wird und Asien und die EU planen, die Importe von Schiefergas zu erhöhen, hat sich der Druck auf diese Region verstärkt und bedroht die hart erkämpften Landrechte und Homelands der Aboriginal People.
Mit: Dimakarri 'Ray' Dixon (Mudburra); Jack Green (Garawa, Gudanji); Gadrian Hoosan (Garrwa, Yanyuwa); Juliri Ingra (Gooreng Gooreng); Jackie Johnson (Gooreng Gooreng); Que Nakamarra Kenny (Western Arrarnta); Robert O'Keefe (Wambaya); Neola Savage (Gooreng Gooreng); The Sandridge Band., and Professor Irene Watson (Tanganekald, Meintangk Bunganditj), author of Aboriginal Peoples, Colonialism and International Law. www.infractionsdocumentary.net
Regie/Recherche/Kamera/Ton: Rachel O'Reilly; Produzent:in: Mason Leaver-Yap; Schnitt/Visuelle Recherche: Sebastian Bodirsky; Kamera: Tibor Hegedis, Colleen Raven (Nharla Photography); Sound Mastering: Jochen Jezussek; Map Visuals: Valle Medina, Benjamin Reynolds (Pa.LaC.E); Untertitel: Katharina Habibi.
Über die Künstlerin
Rachel O'Reilly ist Künstlerin, Schriftstellerin/Poetin, Kuratorin und Doktorandin am Goldsmiths' Centre for Research Architecture. INFRACTIONS ist die Abschlussarbeit von The Gas Imaginary (2013-21), wofür die Künstlerin Poesie, Zeichnung, Bewegtbild und Vortragsformate nutzte, um unkonventionelles Gas (Fracking) im kolonialen Siedlerraum zu erforschen. Rachel unterrichtet das Theorieseminar 'At the Limits of the Writerly' über Planetarität, politische Ökonomie und Poetik am Dutch Art Institute. Zuvor war sie Kuratorin an der Gallery of Modern Art | Australian Cinematheque, Brisbane, und wissenschaftliche Mitarbeiterin an der Jan van Eyck Academy. Ihre künstlerischen Arbeiten und Forschungen wurden international präsentiert, zuletzt im Van Abbemuseum, Eindhoven; E-flux, New York; und UNSW Galleries, Sydney. Zu ihren jüngsten kuratorischen Kooperationen gehören Ex-Embassy mit Sonja Hornung und Planetary Records: Performing Justice zwischen Kunst und Recht mit Natasha Ginwala. Sie ist Co-Autorin von On Neutrality mit Jelena Vesic und Vlidi Jeric für die Reihe Non-Aligned Modernisms (MCA, Belgrad), veröffentlicht mit Danny Butt über künstlerische Autonomie im kolonialen Raum der Siedler*innen und gab mit Antonia Majaca und Jelena Vesic Feminist Takes für Sternberg Press heraus.
www.rachel-oreilly.net
Bild: Video Still, 'INFRACTIONS', 2019, 1:03:00, HD video, split screen with text, Dolby 5.1
Artist and former water bore runner Dimakarri 'Ray' Dixon (Mudburra), points to existing and prospective wells upstream of Lake Woods and Newcastle Waters, an important gathering ground, historic also for 1966 pastoral industry walk-offs.
"It's a Native Title area, which is another way of saying, nothing much we can do. But there is time. There is a thing we can do. Get everyone together, and stand up for your rights!"
Prev project
Next project