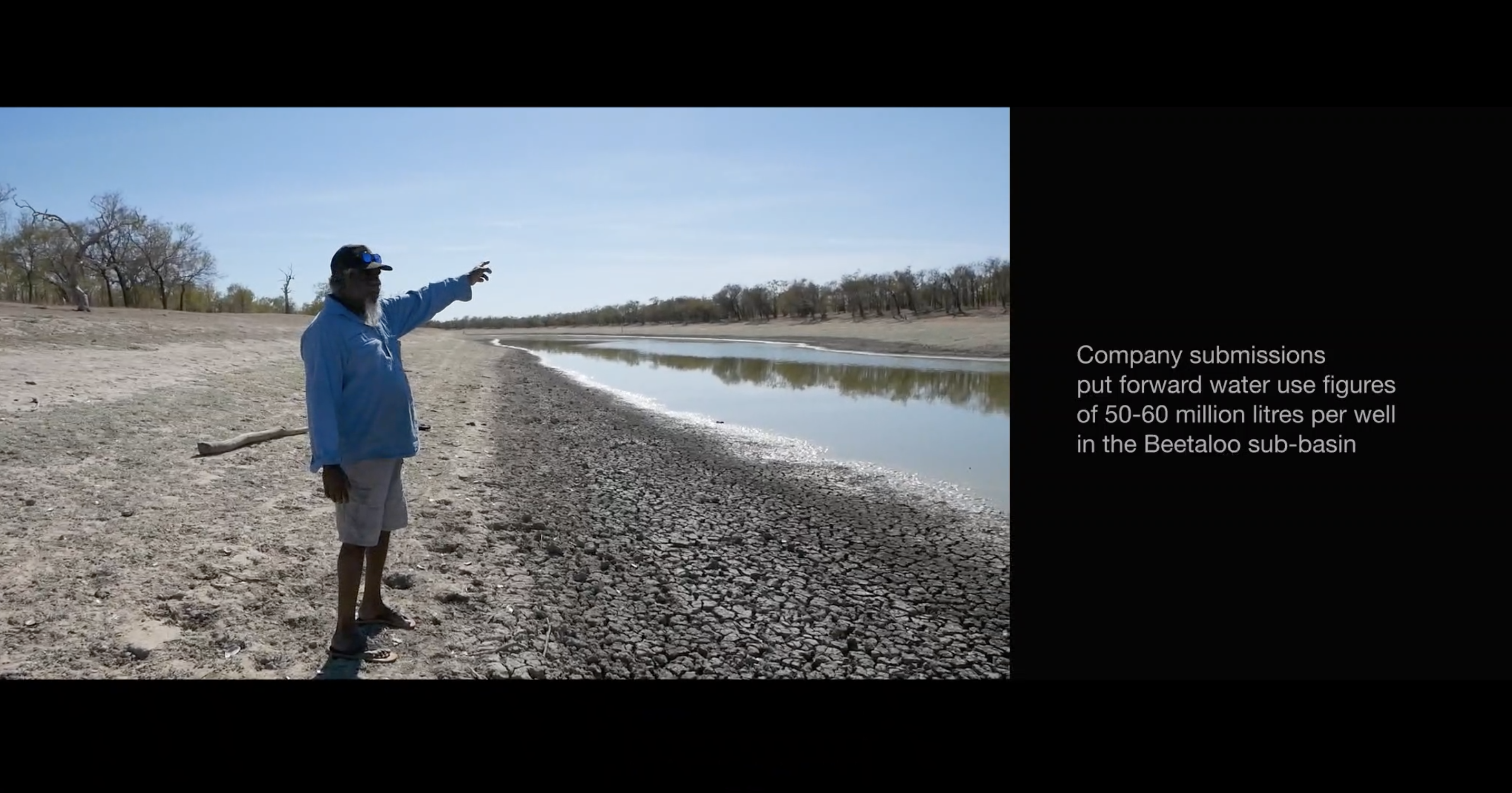 CINEMA RESIST! Infractions (2019)
FRIDAY June 25th: 7 pm until SUNDAY June 27th: midnight
As part of the exhibition "RESIST! The Art of Resistance," the RJM created a film series that explores resistance movements against colonial oppression or traces of colonialism up to the present day from the perspective of the Global South. This time, Cinema RESIST! will show the film "Infractions" (2019) directed by Rachel O'Reilly.
The film will be presented by the director herself and available online from Friday 25 June 7:00PM to Sunday 27 June 11:59PM on http://rjm-resist.de/
INFRACTIONS, 2019, Dir. Rachel O'Reilly, HD video, colour, 63 min.
INFRACTIONS is an artistic documentary in dialogue with frontline Indigenous cultural workers' struggles against threats to more than 50% of the Northern Territory of Australia from shale gas fracking. As the country becomes the leading exporter of planet-warming fossil fuels globally, and Asia and the EU plan to increase fracked gas imports, pressure on this region has intensified, threatening hard-won Aboriginal land rights and homelands.
Featuring Dimakarri 'Ray' Dixon (Mudburra); Jack Green (Garawa, Gudanji); Gadrian Hoosan (Garrwa, Yanyuwa); Juliri Ingra (Gooreng Gooreng); Jackie Johnson (Gooreng Gooreng); Que Nakamarra Kenny (Western Arrarnta); Robert O'Keefe (Wambaya); Neola Savage (Gooreng Gooreng); The Sandridge Band., and Professor Irene Watson (Tanganekald, Meintangk Bunganditj), author of Aboriginal Peoples, Colonialism and International Law. www.infractionsdocumentary.net
Director/Research/Camera/Sound: Rachel O'Reilly; Producer: Mason Leaver-Yap; Editor/Visual Research: Sebastian Bodirsky; Camera: Tibor Hegedis, Colleen Raven (Nharla Photography); Sound mastering: Jochen Jezussek; Map visuals: Valle Medina, Benjamin Reynolds (Pa.LaC.E); Subtitles: Katharina Habibi.
About the artist
Rachel O'Reilly is an artist, writer/poet, curator and PhD researcher at Goldsmiths' Centre for Research Architecture. INFRACTIONS is the final work from The Gas Imaginary (2013-21) which used poetry, drawing, moving image and lecture formats to research unconventional gas (fracking) in settler colonial space. Rachel teaches the theory seminar 'At the Limits of the Writerly' on planetarity, political economy and poetics at the Dutch Art Institute. She was previously a curator at the Gallery of Modern Art | Australian Cinematheque, Brisbane, and researcher at the Jan van Eyck Academy. Her artistic work and research have been presented internationally, most recently at Van Abbemuseum, Eindhoven; E-flux, New York; and UNSW Galleries, Sydney. Recent curatorial collaborations include Ex-Embassy with Sonja Hornung and Planetary Records: Performing Justice between Art and Law with Natasha Ginwala. She co-wrote On Neutrality with Jelena Vesic and Vlidi Jeric for the Non-Aligned Modernisms series (MCA, Belgrade), publishes with Danny Butt on artistic autonomy in settler colonial space, and edited Feminist Takes with Antonia Majaca and Jelena Vesic for Sternberg Press. www.rachel-oreilly.net
Image: Video Still, 'INFRACTIONS', 2019, 1:03:00, HD video, split screen with text, Dolby 5.1
Artist and former water bore runner Dimakarri 'Ray' Dixon (Mudburra), points to existing and prospective wells upstream of Lake Woods and Newcastle Waters, an important gathering ground, historic also for 1966 pastoral industry walk-offs.
"It's a Native Title area, which is another way of saying, nothing much we can do. But there is time. There is a thing we can do. Get everyone together, and stand up for your rights!"
Prev project
Next project